Events archive
Event 56 - 60 from 139 in archive
---::Monday's gender projections::---
Monday, 24.11.2008, 19:00
Itty Bitty Titty Committee / Výbor ťuťu ňuňu cecíků

režie: Jamie Babbit původ: USA
rok: 2008
délka: 87
dabing: Anglický
titulky: České
další: punková feministická komedie
Kliťáky v akci jsou radikální feministická skupina, která nehodlá trávit čas naříkáním a čekáním na to, až se svět sám od sebe změní. Dilemata aktivismu, odkazy na osobnosti feminismu, jeho myšlenky i jednotlivá klišé se ve filmu prolínají se stylem hollywoodské lovestory. Propojení feministických myšlenek a filmového mainstreamu může být námětem k pofilmové diskusi...


---::Concert::---
Sunday, 16.11.2008, 21:00
Benefit for Mole´s Column as bonbon of bookfair

Bands:
Pozitivní deviace (punk-hardcore, Děčín)
Průmyslová smrt
Stolen Lives (oldschool hardcore/thrash, Nové Město nad Metují)
Kohout plaší smrt (punk, Liberec)
Soukromey pozemek (punk´n´roll, Příbram)
Entrance 150,- CZK

Squat Milada

---::Anarchist bookfair::---
Friday, 14., 18:00 - Sunday, 16.11.2008
...even words shoot...

By this event we would like to give a possibility to present publishing activity for all anarchist, autonomous and libertarian groups and individuals. Not only to those, who publish books, leaflets and magazines, but also to whom producing audiovizual records (DVDs, music CDs). We would like to exchange ideas and experiences, acknowledge others about your publishing activity and work it contains. Discuss about various topics not only between us, but mainly with readers, hearers and onlookers. There is a plenty of topics for discussion, e.g. ways of publishing (is it better to print materials at home from own sources with less number of copies or let big graphic companies to print them), or choosing of topics for our magazines, zines, movies.
But of course depends mainly to you what would you like to talk about and what will be mood for. Also we would like to exchange experiences by workshops with practical presentations of doing leaflets, DVDs and so on. in open source software and kindly we can show you how to communicate more securely. For relaxing, then there will be exhibit of our production (projection of movies, listening to music...). We know that this event will be time-consuming and we reserve for it whole weekend before national holiday. We do not want to order accurate process of event, but we would like all participators to do so together. Night program then complete benefit concerts on Milada squat to support interesting activities. Your ideas, participating or other informations please write us to e-mail: palash @ palash.info. See also our webpages. We are looking forward your participation.

Saturday 15.11. and Sunday 16.11. since 10:00 untill 21:00...


---::Discussion::---
Saturday, 4.10.2008, 15:00
Queer parade 2009 - co? kde? jak?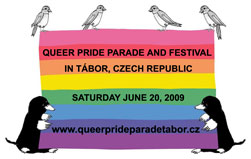 Srdecne vás zveme do info cafe na diskuzi ohledne Pruvodu a festivalu Queer Pride v Tábore 2009. Clenové organizacního výboru nacrtnou plány pruvodu a festivalu a otevrou diskuzi týkající se nekolika klícových témat.
Také potrebujeme dobrovolníky, spojence a kamarády - lidi, kterí nám pomohou ukázat, ze v bývalém východním bloku muze existovat jedno bezpecné místo, kde se dá oslavovat bez ohledu na identitu gender nebo sexuální preferenci.
Nemusíte být queer, abyste podporili právo být tím, kdo jste, právo vybrat si sexuálního partnera, nebo za svou volbu nebýt vystaveni diskriminaci ve skolách, v práci nebo ve spolecnosti. Nemusíte být queer, abyste prisli na tuto schuzku a sdíleli s námi vás pohled na vec.
Tesíme se na setkání s vámi.


---::Workshop::---
Saturday, 6.9.2008
Palash fest aneb Linux pro všechny

Palash fest navazuje na tradiční Installfesty, aneb Jak dostat Linux do PC,naučte se ovládat speciální programy, nechte si zprovoznit Linux!
O čem to bude tentokrát?
*programy na usnadnění překladu z cizích jazyků
*šifrování v pgp, otr
*tvorba brožur – Scribus, LaTeX

Vše probíhá formou workshopů s praxí!

Začátek ve 14,00 hodin

Info Café Krtkova kolona
Sochařská 6
170 00, Praha 7 - Bubeneč
kk.czechcore.cz



[|<] [< newer] || [> older] [>|]
When we have open?
Monday - Thursday
from 16:00 until 22:00
Free entrance!
---
Please, donate us!
Funding of infocafé is difficult and often loss. We shall be happy, if you support us!
Account number is 948700001/5500.
We sincerely thanking to all donaters!
---
---
Transport connection
underground *C* (red) Vltavská or *A* (green) Hradčanská and then by tram 1, 8, 15, 25 or 26 to Letenské náměstí

---
Assortment
Non-alkoholic: limonade, juice, tea, coffee limo, džus, čaje, kafe
Alcoholic: with snifter
Beer: is cooked by proffessionals, it waits only to you - tasters with experiences
Food: it finds something to eat
Dog: isn´t food in Mole's column, you can take him entrain
---
Interesting links
---

since 10.7.2006